In the fast-paced world of sports, staying up-to-date with the latest scores, statistics, and match details is crucial for enthusiasts and bettors alike. Flashscore, a renowned sports information platform, has become a trusted companion for sports aficionados worldwide, and its presence in Kenya is no exception. This comprehensive review will delve into the features, functionalities, and offerings of Flashscore in Kenya, uncovering how this platform has emerged as the go-to source for sports-related information and betting insights.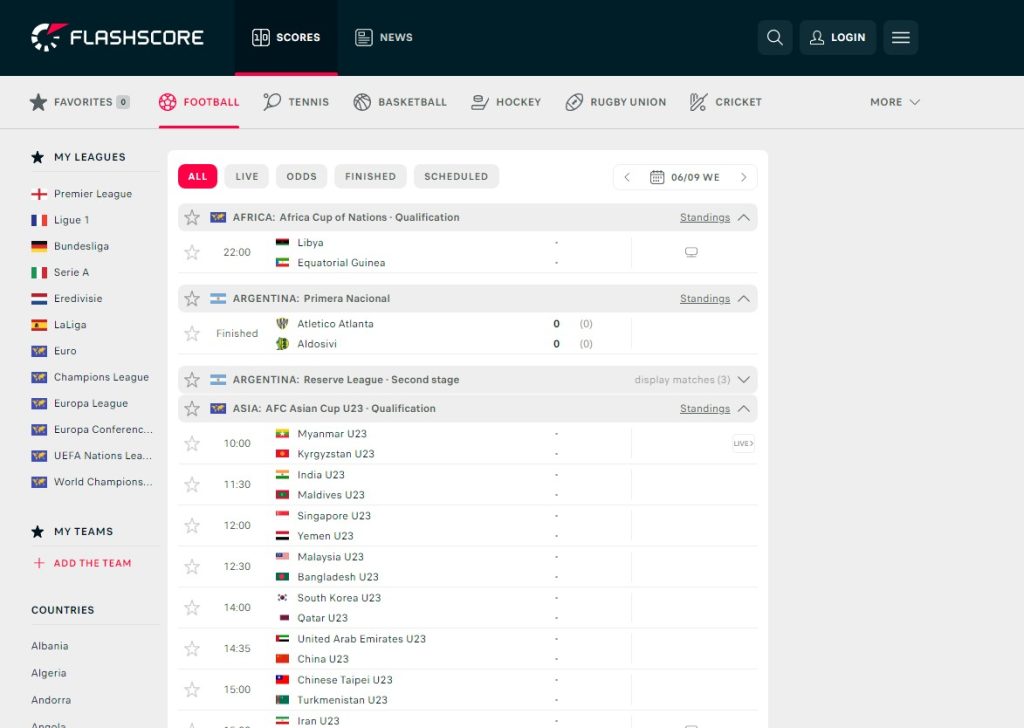 From real-time score updates to in-depth statistics, Flashscore serves as a one-stop hub for all things sports. Whether you're a passionate follower of football, basketball, tennis, cricket, or any other sport, Flashscore Kenya promises to keep you informed and engaged. In this review, we'll explore the platform's user-friendly interface, its coverage of various sports leagues and events, its utility for sports betting enthusiasts, and much more.
Join us on this comprehensive journey through Flashscore in Kenya, where you'll discover how this platform has redefined the way we experience and interact with sports. Whether you're seeking up-to-the-minute scores, detailed statistics, or valuable insights to inform your sports betting decisions, Flashscore is poised to deliver it all. Get ready to explore how Flashscore has become an indispensable tool for sports enthusiasts and bettors across Kenya.
Flashscore Review
Flashscore offers a sports data platform accessible via website and mobile apps. The service covers dozens of sports disciplines and provides extensive data in real-time:
Live scores and results as matches unfold
Detailed pre-match statistics and odds comparisons
Aggregated news from media outlets
Standings, schedules, rosters, rankings
Historical results and head-to-head records
While Flashscore does not actually handle betting, the comprehensive sports data can inform wagering decisions. The platform also appeals to general sports fans.
Available Sports and Data
Flashscore provides extensive coverage of sports from global to local:
Popular Global Sports
Football (soccer)
Basketball
Tennis
Cricket
Rugby Union
Motorsports
Ice Hockey
American Football
Baseball
Plus 30+ other major sports are covered!
Kenya Sports
Kenyan Premier League football
Kenya Cup rugby
Basketball, volleyball, athletics
Cricket, boxing, swimming
For each sport, Flashscore offers extensive metrics like:
Live scores, standings, fixtures, results
Team stats like attacks, possession, cards
Player stats like goals, assists, accuracy
Pre-match H2H results and key stats
Odds from top bookmakers
Transfer news and match previews
Detailed historical results
The depth of data helps give punters an edge when analyzing upcoming events and odds.
Registration and Accounts
Flashscore offers users the flexibility to access its services without the need for an account, ensuring that everyone can enjoy its features. However, registering for a free account comes with several benefits:
Personalized Tracking: Registered users can track their favorite teams, players, and leagues, allowing for a customized sports experience. This feature ensures you stay updated on the sports that matter most to you.
Synced Settings: Your account enables the synchronization of settings and preferences across both the mobile and desktop versions of Flashscore. This ensures a consistent and user-friendly experience, regardless of the device you're using.
Personalized Notifications: Users with accounts can receive personalized notifications tailored to their preferences. These notifications keep you informed about live scores, match updates, and other relevant information.
Access to Premium Features: Flashscore offers premium features for users who subscribe to paid services. While basic registration requires only an email address and password, accessing premium features may require additional information and payment.
The registration process is straightforward and user-friendly. It begins with providing an email address and creating a password. Flashscore respects user privacy and typically requires limited personal information, especially if you're not subscribing to premium services. This approach ensures that users can quickly and easily access the platform's valuable features while maintaining their privacy.
Unique Features and Tools
Beyond live scores and statistics, Flashscore also incorporates useful specialty features:
Bet Radar Odds Feed – Live odds from 100+ bookmakers for easy comparison.
Smartphone Notifications – Customizable alerts for live scores, close games, and more.
My Matches – Track favorite teams and competitions for quick access.
Multi-Sport Ticker – Monitor live scores from different sports in a single ticker.
Team Profiles – News, stats, history, competition performance and more in one place.
These unique tools help Flashscore stand out from simply aggregating scores. The bet radar integration saves time researching odds.
Advertising and Premium Services
Flashscore offers a few paid premium features but is mostly ad-supported:
Ad-free experience
Advanced analytics and data exports
Early access to line-ups and team news
Removes rate limits on APIs
These extras appeal primarily to professional bettors who automate predictions or data feeds. Casual users can access everything for free with ads.
Website and Mobile Experience
Website
Flashscore's website is designed with user-friendliness in mind, offering a clean and efficient interface that caters to both sports enthusiasts and bettors. Key features of the website include:
Intuitive Navigation: Users can easily navigate through various sports and leagues with intuitive menus, making it simple to find specific matches or teams.
Live Scores: Flashscore prominently displays live match scores, ensuring you stay updated on ongoing games across different sports.
Comprehensive Statistics: In addition to live scores, the platform provides detailed statistics presented through tables and graphs. This feature is especially valuable for those who enjoy analyzing team performance.
News Articles: Flashscore offers news articles related to teams and matches, providing additional context and insights into your favorite sports.
Betting Odds Integration: For sports betting enthusiasts, Flashscore seamlessly integrates betting odds from bookmakers, making it a valuable tool for informed betting decisions.
Fast Loading: Pages load swiftly, thanks to efficient design and minimal clutter. Live score tickers update rapidly, ensuring you never miss a moment of the action.
Engaging Layout: While catering to bettors, Flashscore's layout remains engaging for casual sports fans, offering a comprehensive sports experience.

Mobile Apps
Flashscore's mobile apps for both iOS and Android platforms prioritize delivering live scores and key information. The mobile apps include:
Live Score Tickers: The apps feature live score tickers for your favorite sports, allowing you to quickly access real-time match updates.
Schedules and Standings: Users can view match schedules and current standings, ensuring you're always informed about upcoming games and team positions.
Push Notifications: Flashscore's mobile apps provide push notifications for live scores, close matches, and other relevant updates. This feature keeps you in the loop, even when you're not actively using the app.
Breaking News Alerts: Stay updated with breaking news alerts related to the sports and teams you follow.
Synced Login: The mobile apps offer synced login functionality with your website account, ensuring a seamless transition between platforms.
These apps are designed to provide quick and convenient access to live scores and alerts, making them ideal for users on the go. While they offer valuable information, accessing more in-depth data may require using the full website. Flashscore's website and mobile apps together create a comprehensive sports information ecosystem, catering to the needs of sports enthusiasts and bettors alike.
Customer Support
Flashscore provides customer support through:
Email support
FAQ and help center
Active user forums
Direct messaging available for premium subscribers
Support response times are a bit slow at 1-2 days via email currently. More options like live chat would enhance the customer experience. But the forums provide decent peer-to-peer assistance.
Pros of Flashscore
In summary, the major advantages of Flashscore include:
Extensive live scores and statistics across dozens of sports
Odds integrated from top bookmakers for easy comparison
Clean, ad-supported website and mobile apps
Customizable alerts for scores, news, and close matches
Free to use for recreational and serious bettors alike
Data and tools can enhance sports knowledge and betting decisions
Cons and Limitations
Some potential drawbacks to note:
Slow email-only customer support right now
Limited access to some data and features without ads
Does not actually handle any betting or wagering
Less coverage of niche local Kenya sports
Conclusion
Flashscore provides a wealth of free sports data covering both global and Kenyan leagues. The live scores, statistics, news, and bookmaker odds integration make it a valuable platform for fans and bettors alike looking to enhance their knowledge.
While they do not replace actual sportsbooks, having real-time data and customizable alerts at your fingertips is extremely helpful. Flashscore saves time researching leagues and uncovering valuable betting information from their extensive sports databases.
Just be sure to use the data responsibly and compare it with your own research. But overall Flashscore succeeds in aggregating sports data and insights in one convenient free platform.
FAQs
Here are some commonly asked questions about Flashscore:
What sports does Flashscore cover?
Flashscore provides live scores, fixtures, news, and stats for over 35 sports including football, basketball, tennis, motorsports, rugby, cricket, and more.
Is there an app for Android and iOS?
Yes, free Flashscore apps for both Android and iOS are available providing quick mobile access to live scores and alerts.
What betting sites does Flashscore show odds for?
Flashscore displays live odds feeds from over 100 major bookmakers like Betway, SportPesa, Betika, 22Bet and more for easy comparison.
Do I need an account?
No, Flashscore is accessible without registration but creating an optional free account allows tracking favorites and personalization.
Can I get notifications on my phone?
Yes, through the mobile apps you can enable customizable notifications for live scores, close matches, and more.