Online bookmaker Betpesa is based in Kenya and is owned by Play HUB Ltd.
The BCLB (Betting Control and Licensing Board of Kenya) granted it a license, which it began using in 2020. Rapid user growth has helped operator establish itself as one of the top betting sites in the area.
BETPESA KENYA REVIEW: OUR OPINION
One of the well-known site in Kenya where you can place bets is Betpesa. Betting site provides a variety of ways for you to win using different features.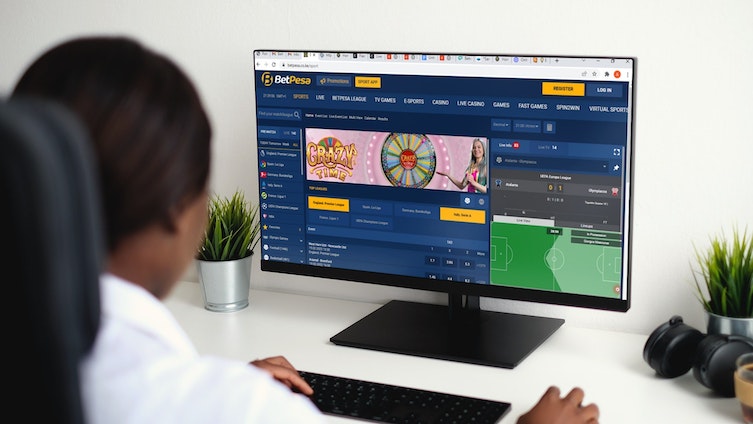 Betpesa belongs to the new generation of Kenyan sites that combine great ambience with high quality features.
PesaBetcasino knows exactly what Kenyan bettors want and has gone above and beyond to meet our requirements, from high betting odds to fantastic bonuses; simple deposits to a variety of markets.
BetPesa Kenya offers both virtual and live games online and on mobile.
Features Betpesa
The site is notable for its outstanding design, top-notch graphics, and alluring promotions. Betpesa is committed to maintaining a unique gaming experience for all its clients. The top-class international technology partnerships are key to assisting us to achieve this objective. PesaBet provides online games, casino games, and sports bet.
Literally anything you require can be found. When we take into account the fact that they also offer live sports options, things only get better.
We want to highlight a few things about the operator that we think are outstanding:
A large selection of sports markets
The availability of a BetPesa Kenya section
Live betting available
An easy to use app
Excellent mobile site version
Very useful additional features.
Players can enjoy the PesaBet casino game section in addition to sports. Players can choose from a sizable selection of games, all of which they have to offer.
A BetPesa app is also offered by operator, but it is only accessible to Android users. iOS apps are not accessible. However, there is a mobile version of the website that enables users to access the site's services via a smartphone even if their phone is incompatible.
What is the offer of Betpesa Kenya?
Sports betting
Over 40 sports are featured in sizable sportsbook. E-sports, virtual sports, and other unique categories like politics are also available. Football, basketball, tennis, rugby, table tennis, ice hockey, and volleyball are some of the esports. Virtual games offer options like speedway, greyhound, horse, and motorbike racing.
Markets
The availability of the website's numerous markets will excite the majority of users. A comprehensive list of sports markets has been developed by BetPesa Kenya to ensure that players have a great time making bets.
The most well-known markets in Kenya are, of course, best. Football is most popular sport for users to wager on because it allows them to do so on some of the most well-known leagues in the world. This includes leagues like the Serie A, La Liga, and the Premier League.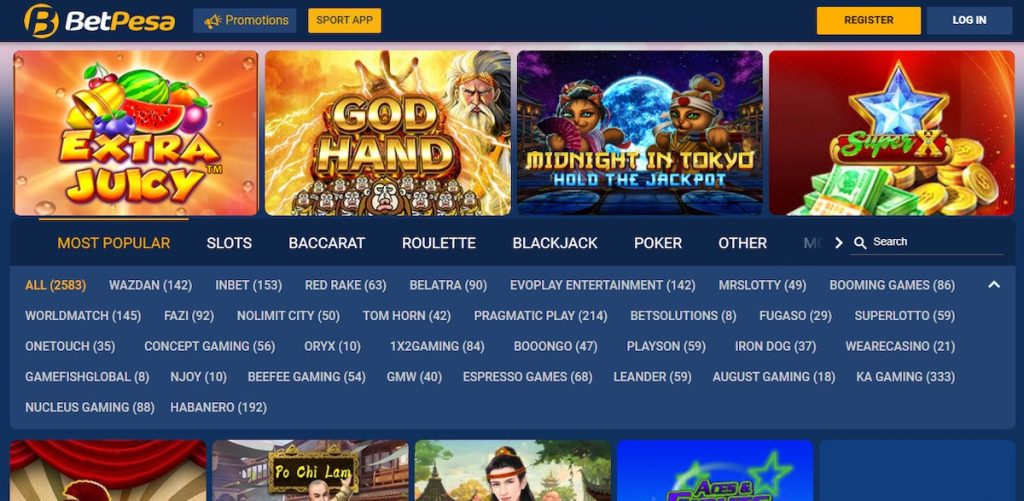 However, Kenyan gamblers can also wager on some unique occasions, such as the upcoming Africa Cup of Nations and the European Champions League and Europa League.
Basketball, cricket, badminton, tennis, cycling, volleyball, MMA, Formula 1, and other sports also have significant markets. Football is one of them.
On Betpesa, you can choose from a huge selection of betting markets for sporting events. Each event has more options than you'll find with most bookmakers in addition to the standard markets. Numerous betting options are available for popular events like Premier League games, including well-liked 1X2, Over/Under, Both Teams to Score, Halftime/Fulltime, Totals, Handicap, Correct Score, Bookings, and Corners markets.
Live In-play
The live betting selection at Betpesa is among the best you'll find among bookmakers in the industry. The live page events list contains a list of all the sporting events that are open to live in-play wagering.
Each match is accompanied by gorgeous, intricate graphics that make it easy to follow the action as it unfolds. Live stats, match information, lineups, and live odds are additional features on live page. Additionally, you can watch multiple live events simultaneously on the live page by using the multi-view feature, which displays multiple events in separate windows.
E-sports
The selection of games available on Pesabet casino games will please e-sports fans. CSGO, Dota 2, League of Legends, Starcraft 2, Warcraft, FIFA, NBA 2K, Valorant, and NHL are among video games you can wager on. E-sports events can also be bet on live, and many of them are broadcast for free on the website.
Virtuals
The following betting option will be presented to you. Computer simulations are used to create enhanced virtual games that better represent skills of players in the real world. The outcome is a nearly exact replica of what would occur if same team played in the real world.
Go to the Virtuals tab or Betpesa league tab to access virtual games. Football is one of many sports that can be wagered on. One benefit is that you can win almost immediately because the games only last a few seconds or minutes, so you don't have to wait around for a long time to win.
CASINO
Not interested in sports betting? You can always check out pesabet casino. Over 2000 online slots can be found at the betpesa app, which offers a nice selection of games. Intriguing games include Baccarat, Blackjack, Drops and Wins, Roulette, and Poker, which has more than 70 variations.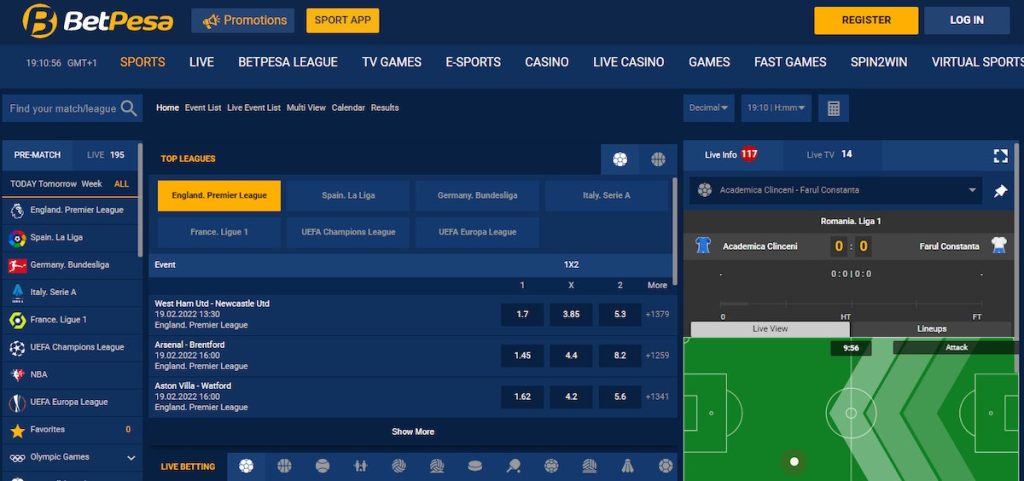 Additionally, they have a live casino with over 300 tables. So, if you want to experience a real casino, you can always visit Betpesa Live casino and talk to players and dealers there in real time. The Betpesa is going to be a blast for you!
Jackpot
With just a small wager, you can win big thanks to Betpesa's jackpot. This choice is based on sports, particularly football. You will be given a list of matches to choose from, and whether you correctly predict outcome or not, you will win a sizable sum of money.
When you correctly predict 11 matches for the main jackpot, you can win 2 million shillings with a stake of just 49 bob. There are jackpot bonuses as well; if you correctly predict 10 matches, you will receive Ksh 150,000; if you correctly predict 9 matches, you will receive Ksh 100,000.
Cashout
As is common knowledge, a cashout allows you to ask for payment in advance of a match or series of matches. One of the few betting sites in Kenya with this incredible feature is Betpesa. This function enables you to cut losses or claim wins earlier.
According to Pesabet casino, not all promotions will have this option available, and wagers made with bonus funds are not eligible for cashout. Any promotions are not also applicable to cashed-out bets.
Here is an illustration that will help you understand the cashout feature in case you don't already. You bet on seven matches, four of which have now been played, and outcomes match your predictions. When you go to site you just placed and see that there is a cashout option, you ask for an early payout, and money is added to your account. The other 3 matches won't be taken into account either.
It's crucial to remember that cashout amount may never be greater than the initial potential win. The sum will also be influenced by the odds at moment of cashout.
REGISTRATION
You will need to start by making an account, which is the first step. This advances your status as a true site member while also enabling you to take advantage of many benefits website offers.
The Betpesa registration process is fairly simple. An active Kenyan phone number is the main prerequisite. Once you have that, you can easily continue with process.
Two steps are involved in the site:
Register Account
Verify Account
That's it; you can now access and use your account. Use a Safaricom phone number when registering since it will be used for this since Betpesa uses Mpesa to send payments and for deposits.
Additionally, you can open an account by texting the word Join to 29060. You'll get a text message confirming creation of your account and its specifics.
The account you create will help you place bets, receive bonuses, make deposits, track bets, and request withdrawals.
How to Login
Ready to open a Betpesa account? Follow the quick login steps below.
Click on the "Register on pesaBet " button below
Enter your phone number on the form
Fill in your preferred password
Enter your password again to confirm
Tick box to confirm that you are at least 18, and accept the terms and conditions
Click on "Get registration Code". Betpesa will send a loginn code to mobile number you have provided
Verify your new account by entering your login code in space provided
Confirm your login
You've been able to create a Betpesa Kenya account in under two minutes. You can now start taking advantage of this site's fantastic features.
If you forgot your password, just click on Forgot password on Log in page. You will be requested to enter phone number that you used when creating an account. Enter it and click on send,  a text message will be sent with a login code, enter code and proceed to create a new password.
BETTING TIPS
Bets can be placed on a variety of events on BetPesa Kenya website. There are numerous markets available here, and in addition to standard 12 bets, points spread, and outright bets, there are a few other types of advanced bets that users can utilize.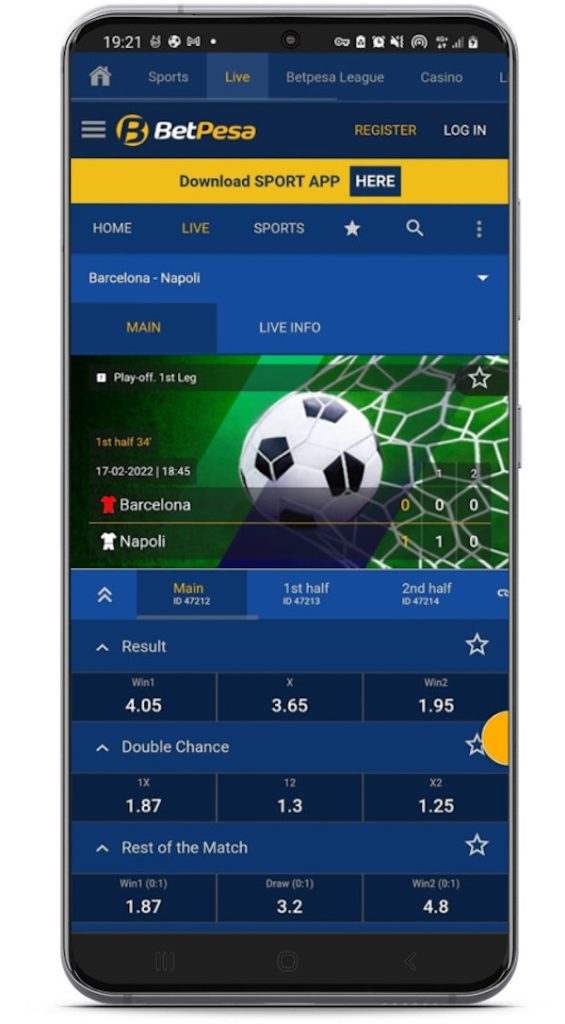 But in order to get the most out of your sports betting, we advise adhering to some of the key BetPesa recommendations. First and foremost, never wager more than you can afford to lose. Addiction to gambling is a serious issue that requires attention. Before match begins, make sure to check the odds and carefully consider markets you have available.
Double and even triple check your bet slip before making your BetPesa predictions. It's always a good idea to focus on one sport and become an expert in it. It might be even better to focus solely on one league. To place most accurate wager possible, keep track of all the outcomes, rumors, statistics, history, and stories.
Not chasing a specific outcome would also be a wise piece of advice. A careful approach is always preferable to using force to gain an advantage. In the end, you will simply lose more than you are able to win.
Bonuses and promotions
In this section, we'll examine the various gifts that Betpesa gives to its customers.
Here are a few promotions:
100% Karibu bonus- here, a 100% bonus is given from the first deposit to casino. This means that if you deposit Ksh 200 you will get an extra 200 to bet with.
100% multi-bet bonus- when you place a multi bet with 5 or more predictions on site. Your possible win will be boosted. The lowest boost is 10% whereas highest is 100% for bet slips with predictions above 23.
Social media Trivia- this promotion is available to active users, you will also have to place a bet and follow on their official social media channels, Instagram, Twitter and Facebook.
We can infer from the foregoing that offers fantastic bonuses to all of its customers.
💰 Daily First Deposit Bonus
The daily first deposit bonus offered by Betpesa is among its most intriguing features. One of the few websites in nation with this kind of bonus is theirs.
If you make a first deposit of at least Ksh, you can take advantage of daily first deposit bonus and claim a nice bonus.
Kenyan gamblers have access to daily bonuses of up to Ksh 5000 on their initial deposits. I think that is absolutely brilliant.
😃 Edit Bet Feature
🤑 100% Multicashback
WELCOME BONUS
Let's move on and talk to you now about the Betpesa welcome bonus.
On Pesabet casino, new users can get up to Ksh. This bonus is also known as Karibu Bonus. The welcome bonus is $5,000.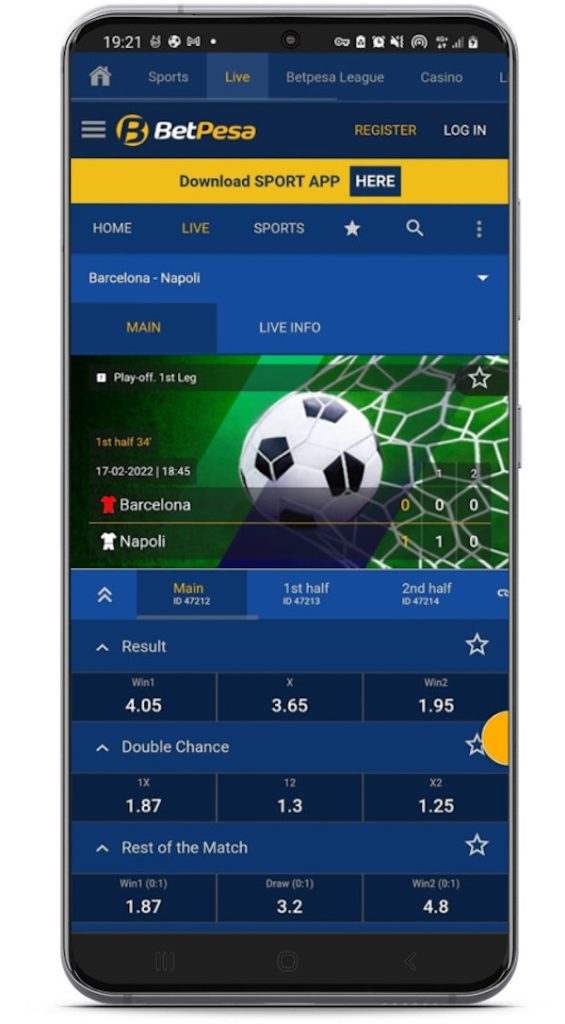 The casino bonus is a little bit unique compared to other offers available and it does not have that requirement, in contrast to many other bonuses that do.
As soon as your account is opened, you will start receiving your bonus.
However, the bonus does come with some terms and conditions, as shown in box below.
How to Claim the Welcome Bonus
Sign Up on site
You will be granted a welcome bonus of Ksh 50
Use bonus amount to place a sport bet, with minimum total odds of 15
Each event should have minimum odds of 1.5
How to Deposit
When placing a bet, your account balance might be low. You will hence need to top up. The main method of adding cash to your Betpesa account is through Mpesa.
Follow these steps to deposit:
Open BetPesa Kenya website and make log in
Click on Deposit at the top
On next page, click on Mpesa deposit
Enter amount you wish to deposit and confirm
A mpesa pop up will appear requesting you to complete transaction
Enter your pin to complete.
That's it; you can now use the money in your account to place a wager.
You can also Deposit through Betpesa Paybill number which is 60060. Just open your Mpesa, click on Lipa and choose paybill, enter it and amount you wish to deposit, and finally, complete by entering your pin.
How to Withdraw
You will need your money after you place a bet and win. The money will be transferred to your account's phone number. Please follow instructions below to withdraw.
Log in
Choose my account details or account menu
Click on withdraw
Enter amount you wish to withdraw, minimum is Ksh 50
Click on withdraw.
Does Betpesa have a mobile App for Kenya?
You can get a free download of the Android version of Betpesa's mobile app from bookmaker's website. You must open this on your smartphone because link to download mobile app is only present in desktop version of website. The Betpesa app offers quick access to all games available for pre-match and live and is optimized for sports betting.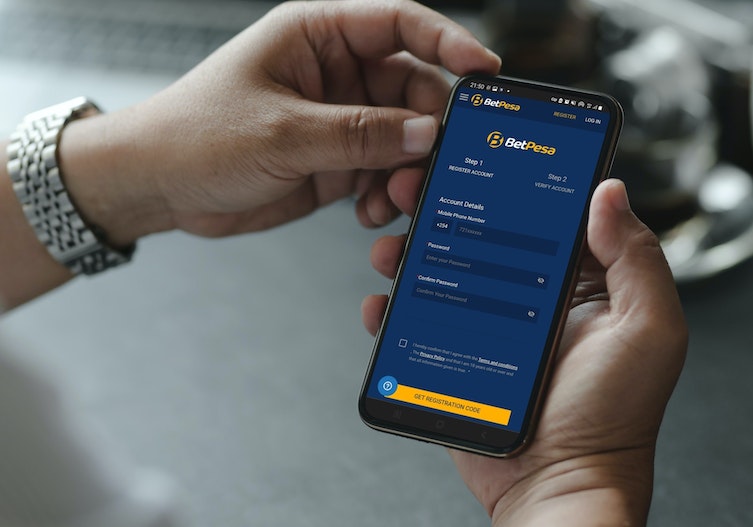 Unfortunately, iOS users cannot download Betpesa's mobile app. Customers must use mobile version of website when placing bets on their mobile devices. The mobile website is thoughtfully designed to make navigation simple. All features and data will be simple for you to access. On all iOS smartphone devices, it has made sure that the mobile version opens as efficiently as possible.
PAYBILL NUMBER
Using the M-Pesa payment system is one of safest and most well-liked ways to fund your account. The most popular payment method in nation is probably M-Pesa.
Therefore, it makes sense for BetPasa to add it as a method to fund a player's account given that many people already use it to do things like pay their utility bills or go grocery shopping.
Actually, M-Pesa is already accepted as a payment method on many betting sites. Veteran players are therefore quite familiar with using it and will know where to begin. However, those who are new can take following action.
Log in to your player's account on BetPesa Kenya.
Find Deposit option.
Choose M-Pesa.
Enter number 600060.
Write amount you wish to deposit.
Enter your PIN number to confirm.
Your account will receive funds in a quick, almost instantaneous manner after processing. In general, withdrawals take a little longer—possibly a few business days—and this can vary depending on the bank and payment method you select.
It goes without saying that you must already have account and your own PIN to authenticate transactions in order for this deposit method to function.
Customer care
Betpesa Kenya can be reached by phone or email. Both phone and email customer service is available around-the-clock. The bookmaker also states that their website has a live chat feature, but we were unable to locate it while conducting this review.
Any of following contact methods can be used to get in touch with Betpesa Kenya:
Live chat- just open website and click on Chat button at the bottom left of each page, an agent will join you in chat
Through this email [email protected]
You can also send a message to them on their official Social media channels on Facebook, Instagram, and Twitter.
In conclusion, one should check out this reliable betting site. The slight drawback may be that Betpesa does not currently have a mobile app. We hope your wagering is successful. Cheers!
Is Betpesa serious and secure?
The website Betpesa is trustworthy and secure. The Kenyan Betting Control and Licensing Board (BCLB) oversees company's operations. The website is constructed in accordance with industry standards, and it has a strict privacy policy to guarantee security of all your information, private information, and financial transactions.
Kenyan-owned company
BCLB license
Simple registration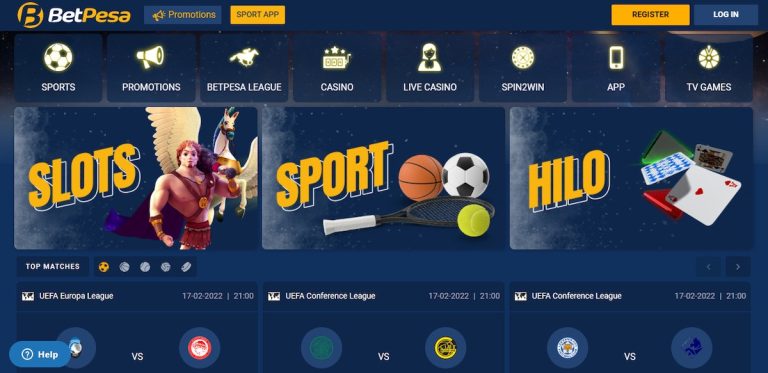 BETPESA KENYA FAQS
In the form of responses to the most frequently asked questions, we have a few more words to say about BetPesa Kenya operator. Look at them below.
🙋‍♂️ Is Betpesa legal?
In Kenya, Betpesa is a legitimate online sportsbook. They have finished all required paperwork and payments, allowing them to freely conduct business in Kenya. They have approval from Kenyan Revenue Authority and a license to operate from Betting Control and Licensing Board.
Do not be afraid at all; it is safe and legitimate.
How to Register for BetPesa?
By clicking registration button in the top right corner of website and answering questions, you can open a account. You will have access to all of markets and website features once you have verified your account.
🙋‍♂️ Is Betpesa casino available to Kenyan players?
In a word, yes. In addition to being accessible in Kenya, Betpesa is also one of best sportsbooks in nation. They take Kenyan shillings and have their main office in Nairobi.
Therefore, pesaBet is highly recommended if you're looking for a nice sportbetting site to join in Kenya.
🤔 How do I join pesaBet ?
Easy! All you need to sign up for Betpesa is an active Kenyan phone number. Once you have that, you can quickly and easily create an account on website. You will receive a login code after entering your phone number, which you can use to activate and verify your new account.
💰 How do I deposit money on Betpesa Kenya?
Kenyan players can use M-Pesa to fund their accounts. Currently, site only accepts that method for payments and withdrawals.
🎁 Will I get a bonus on pesaBet?
Yes, when you register with pesaBet, you will receive a bonus. In addition to other bonuses for current customers, they offer a nice welcome bonus for new customers. Up to Ksh may be claimed by new users. While new users can receive a 5000 sign-up bonus, current customers can receive same sum as a daily first deposit bonus.
How to Use My Bonus on Pesabet?
When a welcome bonus or other bonus is made available, you must first create an account and go through initial qualifying requirements. Before using them, make sure to carefully read terms.
Why Doesn't BetPesa Work?
If you start experiencing any problems with site, contact customer support team immediately. You can do so via email or directly via phone if access to Live Chat is not possible.